Facial Treatments
Although these treatments are relaxing, they are designed to treat specific skin conditions. These treatments are therapeutic options to common skin concerns. A 15-30 minute consultation will be administered before your first clinical facial treatment by our Certified Paramedical Aesthetician to help start you on the appropriate program.
Please note that the following may be done in conjunction with each other or combined with any of the clinical facial treatments. Your aesthetician will evaluate your skin condition and create a plan best suited for you.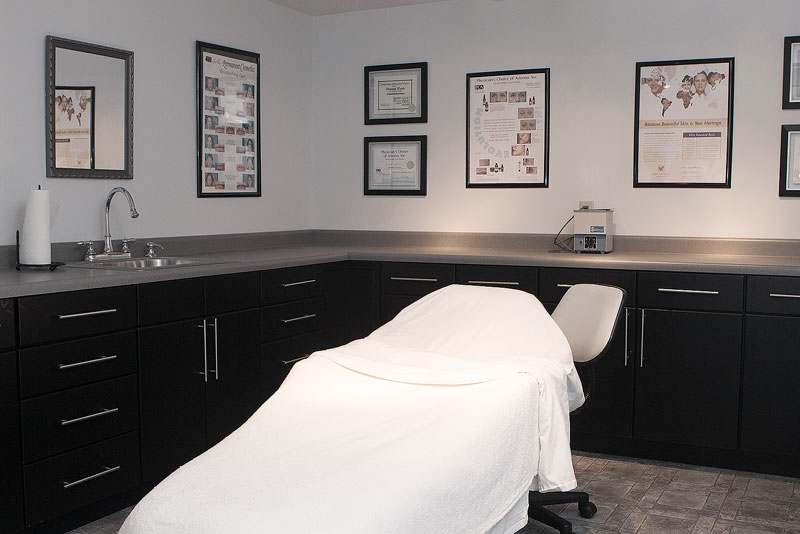 Platinum HydraFacial - The ultimate HydraFacial experience. Begin the detoxification process with Lymphatic Drainage. Then the Signature HydraFacial deeply cleanses, exfoliates, and hydrates the skin while addressing your specific skin concern with a Booster of your choice. This treatment concludes with LED Light Therapy to further reduce the visible signs of aging.
Time: 90 min.
$205.00 (ask about package prices)
Deluxe HydraFacial - An invigorating treatment that includes all of the essentials of the Signature HydraFacial while addressing your specific skin concern with a Booster of your choice. This treatment concludes with LED Light Therapy to further reduce the visible signs of aging.
Time: 60 min.
$175.00 (ask about package prices)
Signature HydraFacial - This treatment deeply cleanses, exfoliates, extracts and hydrates the skin utilizing super serums filled with antioxidants, peptides and hyaluronic acid.
Time: 30 min.
$150.00 (ask about package prices)
Add massage to any HydraFacial for $25.00
Microdermabrasion - Exfoliation unlike any other! Our crystal-free diamond tipped treatment will leave your skin polished to perfection! Great for fine lines and wrinkles, acne scars, hyperpigmentation and any general smoothing.
Time: 30 min.
A la carte: $95.00
With facial: $110.00
Retinol Peel*
This 4% Retinol Peel is good for all skin types in need of rejuvenation. It reduces fine lines, wrinkles, and discoloration and smooths the skins texture. Patients should expect peeling and sheeting beginning 2-3 days post treatment, and lasting for up to 10 days.
$150.00 (includes take-home kit)
PCA Chemical Peels*
Hydroquinone Free
This Chemical Peel is ideal for sensitive skin types, darker skin tones, or those allergic to hydroquinone. This treatment will help to rejuvenate and improve the appearance of breakout prone skin while also promoting an even, bright skin tone.
Sensi Peel
This Chemical peel is formulated as a unique option for all patients, including those with highly sensitive skin. This gentle 6% TCA solution will improve surface texture and brighten the skin while helping to promote an even skin tone. It is an excellent option for sensitive skin, as well as darker skin types.
Ultra Peel
This Chemical Peel is specifically formulated to treat maturing skin, and is also appropriate for many other skin types, conditions, and sensitivities. It will help to improve the appearance of fine lines and wrinkles while promoting an even skin tone and a clear complexion.
$120.00 (includes take-home kit)
Combined PCA & Retinol Peel*
These Chemical Peels may be combined for even better results. Consult with your esthetician for your own personalized treatment.
$185.00 (includes take-home kit)
Patient Expectations for PCA Chemical Peels
PCA Chemical Peels deliver excellent visible results whether or not actual visible peeling occurs. Frequently, exfoliation is at a cellular level and not apparent to the naked eye; however these peels will create a tighter and firmer complexion and appearance. These treatments are formulated to preserve, promote and protect healthy skin, regardless of individual visible exfoliation following treatment. Results may vary.
A progressive, rather than aggressive approach is advantageous, as patients will experience minimal down time, yet will still have outstanding results. Regular peels also enhance the penetration and efficacy of daily care products used at home.
NOTE: Severe treatments may be necessary to achieve results you desire, and may require a medical doctor.
*Chemical Peels - Preparation for Peel Treatment
You will be having a light peel treatment on the day of your appointment. Please follow the outline below to prepare.
Please refrain from these activities within 14 days of your appointment:
- Having a chemical peel
- Tanning in a tanning booth (this practice should be discontinued)
- Having a wax or chemical depilatory treatment (five to seven days)
- Getting Botox, collagen or other dermal filler injections (seven days)
- Microdermabrasion treatments
Please refrain from sun exposure to ten (10) days prior to your appointment. Do not come to your appointment sunburned (please let us know if you are unable to keep your appointment)
Delay use of Retin-A, Renova, Differin, Tazorac, or Avage and high percentage glycolic acid products for approximately five (5) to ten (10) days prior to your appointment. (Using any of these will take the treatment deeper and make your results less predictable. Please consult the dispensing physician before discontinuing the use of any prescription medication.)
Use of PCA SKIN Clinical Care Products prior to your peel will prepare the skin and allow for better treatment results.  Please contact us for more product information.
These superficial peels will result in little to no downtime. Treatments may include slight redness, tightness, peeling, flaking and/or temporary dryness. Most patients find it unnecessary to apply makeup, as your skin will be smooth, dewy and radiant following your treatment. If you would like to apply makeup, allow approximately 15 minutes for the pH of the skin to stabilize before applying foundation.
Return To Services Menu