F.A.Q.'s
We hope that you will find the following information useful in preparing for your salon or spa visit with us.  Please feel free to contact us at (309) 797-2777 with any further questions.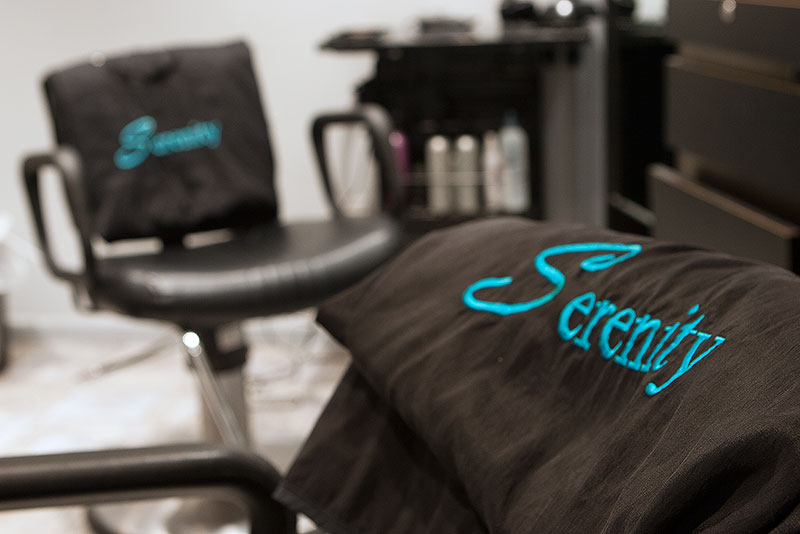 Salon Etiquette & What You Can Expect From Us
We will be here ready to serve you in a professional manner. If we are unable to be here, all efforts will be made to notify you with as much notice as possible or you may be scheduled with another service provider of your choice.
We will allow ample time for you and the services requested. We will do our best to complete these services in a timely, competent manner. Unforeseen interruptions may occur, or occasionally a service may take longer than expected. We ask that you be patient during these situations, as we do try our best!
To ensure availability of your preferred appointment time, we recommend you reserve your next appointment before you leave. Reminder calls will be given to confirm your appointment time & date.
We offer a variety of high quality professional products for your hair, skin, and nails. These products will be used on you during your visit. Your service provider will recommend the products that will be best suited for your specific needs. We recommend you use these products at home to achieve desired results.
We attend on-going training on a regular basis to continue to keep our skills as sharp and updated as possible, to keep up with the ever changing needs of our industry. We travel, spend time and money to attend our training, and enjoy it, and take great pride in it also!
What We Ask of You
Please be here at your scheduled appointment time, to allow us ample time to complete the services requested. If you are not able to be here at your scheduled time, we appreciate notification with a minimum of 48 hours prior to your services. This will help enable us to offer your time to another guest. This is a courtesy to us, as well as other guests.
If no attempt is made to cancel your appointment, a $25 per hour, scheduled time will be charged to you, so we may compensate our service provider. We do understand that unexpected emergencies do occur, and will take this in to consideration with your phone call. We realize your time is valuable, and appreciate it if you consider our time valuable also!
Your desired results when you are here, is the ultimate priority! Please feel free to discuss your requests with as much detail as possible. Communication is the key to us helping you achieve your desired look!
Satisfied, returning customers are what keeps us in business! Any comments or suggestions from you will be GREATLY appreciated
Spa Etiquette
To best relax and enjoy your spa treatment, please arrive 10 -15 minutes prior to your spa reservation time. A late arrival may result in a shortened service time to accommodate the next guest. Please wear what is comfortable. We will provide you with a robe and sandals for your treatment. No children under the age of 18 will be allowed in the spa area unless they are receiving spa services. Please turn off cell phones and pagers during your services.
A credit card number is required to reserve your spa services reservation time. Cancellation or changes must be made no less than 48 hours prior to your reservation or 50 % of the treatment cost will be charged to compensate our service providers. No shows will be charged 100% of the treatment cost. Same day reservations cannot be cancelled. As a courtesy to us, as well as other guests trying to schedule appointments, we appreciate your cooperation in respecting our cancellation policy.
How to Receive a Massage
Massage may not be a part of your contemporary cultural experience. You may feel uneasy or shy about receiving your first massage. For that reason, we've put together a list of guidelines that should put you at ease and assist you in receiving the maximum benefit from your massage session. After receiving your first, we're quite confident that you'll have no such hesitation in the future.
Tell the therapist about areas of your body that are injured, sore or tense.
Mention any medical conditions such as high blood pressure, heart problems, headaches, varicose veins or recent surgery.
If you have any type of infectious disease such as a cold or flu, or a skin rash, it is important that this is mentioned as massage will often increase the health risk and discomfort brought about by these ailments.
During the session, close your eyes and allow yourself to relax as completely as possible. Focus your attention on breathing slowly and deeply.
Allow the therapist to move your limbs into position. Be limp like a rag doll, do not try to help by moving your arms, legs or head unless the therapist requests your assistance.
Miscellaneous Information
All prices are subject to change without notice. A consultation is always available!
Our prices vary depending on level of experience, education, and availability. We do work together as a team and appreciate your working with another service provider if you prefer.
We accept cash, local checks, Visa, Master Card and American Express.
Tipping is not expected, but is much appreciated! To us, it is a compliment of our work. If you choose not to give a monetary tip but did enjoy your service, please send us a friend!
Serenity Salon & Day Spa is a non-smoking facility.
Thank You!
Return To Services Menu